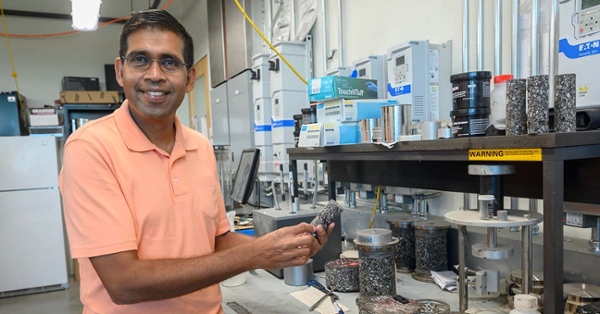 Designing Sustainable, Long-Lasting Roads for New Jersey | rowan today
Rowan University Research and Education Center for Advanced Transportation Engineering Systems (CREATES) is retained by the New Jersey Department of Transportation (NJDOT) as an academic partner to conduct research into innovative materials and technologies to help make pavements more durable, cost-effective, and sustainable.
The founders of CREATES include Yusuf Mehta, Ph.D., Director of CREATES, and Ayman Ali, Ph.D., Associate Director of CREATES, both of whom have established expertise in the fields of pavement design and road materials.
This contractual agreement will provide technical assistance to the state agency in the execution of projects, some of which may arise from the infrastructure law. Mehta said "this contractual agreement will serve as a catalyst for CREATES to also conduct feasible pavement research in other neighboring and mid-Atlantic states."
"CREATES has become an impressive multifaceted center with unique capabilities," said Dean Giuseppe Palmese, "and it's good to see how the Henry M. Rowan College of Engineering thereby supporting the infrastructure priorities of the State of New Jersey.
The pavement is one of the most important and valuable surface transportation infrastructure assets. Under this contractual agreement, CREATES is a leading research center focusing on eight areas: innovative materials, innovative technologies, pavement management system, pavement design procedures, life cycle cost analyses, pavement policy research, technology transfer and on-call services.
"We are looking at different types of innovative materials and recycling technologies where you reuse some of the existing materials to build new roads and highways, making them more sustainable," Ali said. "This, however, must not come at the expense of their profitability, sustainable performance and ultimately the safety of the traveling public."
CREATES researchers will work closely with NJDOT to refine current pavement design technologies, conduct research that will help support agency pavement policies, and provide recommendations for updating the pavement management system. well established that the NJDOT operates. This will allow the agency to make more informed decisions based on current and projected road conditions.
"The pavement management system is a way for us to monitor the health of existing infrastructure," Ali said. "If there is a certain pavement that needs to be repaired, the pavement management system will guide you. If there is an effective treatment that we want to apply, such as a new pavement mix, once the NJDOT has built the treatment, we can track its performance and be able to make decisions based on whether it is performing or not.
One of the most exciting aspects of research, according to Mehta and Ali, is that solutions must be quickly implementable. The CREATES team will assist the NJDOT, as needed, with their pavement support needs.
"They want solutions that are economical, practical, sustainable, efficient and achievable," Mehta said.