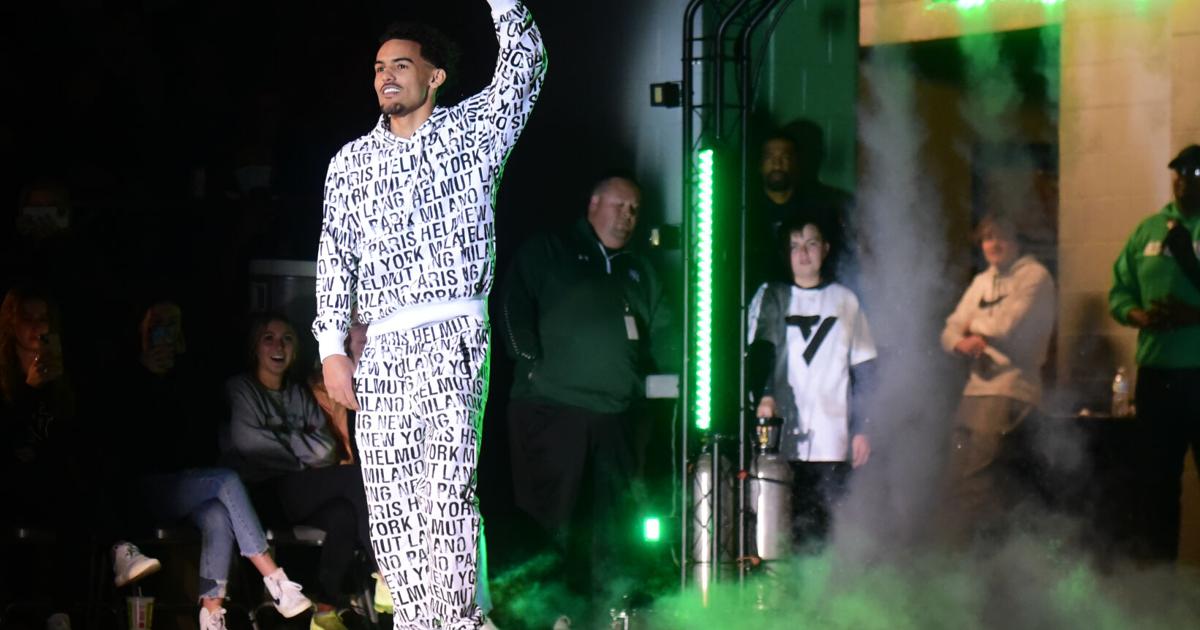 Norman North basketball: North alum Trae Young's No. 11 jersey retired during the ceremony | Sports
Norman native Trae Young was given a hero's welcome on Friday night at Norman North, where he became the first student-athlete in Norman public school history to have his jersey retired.
The former T-Wolves point guard and current NBA All-Star was greeted with chants of "Ice Trae", "Ice Trae" as he entered the gym. Family, friends, former teachers and coaches and teammates were among those waiting for him at the half court. A capacity crowd cheered wildly.
"It's an incredible honor for me," Young said. "But I couldn't do this without everyone here."
Young, 23, played for Norman North from 2013 to 2017. He averaged 25 points per game as a sophomore and 34 points per game as a junior. As a senior, he averaged 42.6 points, 5.8 rebounds and 4.1 assists. Young is Oklahoma State's all-time leading scorer in basketball.
"I've dreamed of doing great things since I was a kid," he said. "I've always dreamed of taking my shirt off. It's an unreal feeling."
With that, Young, whose No. 11 jersey hangs on the wall above the gym's east basket, thanked everyone for coming and posed for selfies with the student section, where T-shirts dominated. white with Young's initials in black letters.
"I'm forever a T-Wolve," he said.
After graduating in 2017, Young played basketball for the University of Oklahoma, becoming the first Division 1 player to lead the nation in points and assists.
He was drafted No. 3 in the 2018 NBA Draft by the Atlanta Hawks. He's averaging 28 points, nine assists and four rebounds per game and will make his second All-Star Game appearance on Sunday.
The buzz in the air Friday began when the Norman North junior team took the stage for warm-ups, about three hours before Young's appearance.
The anticipation continued to grow as the Dan Quinn gymnasium filled to capacity. It reached a crescendo when Young, a Norman by birth, came inside.
"What's new?" he asked the crowd. "I'm speechless right now."