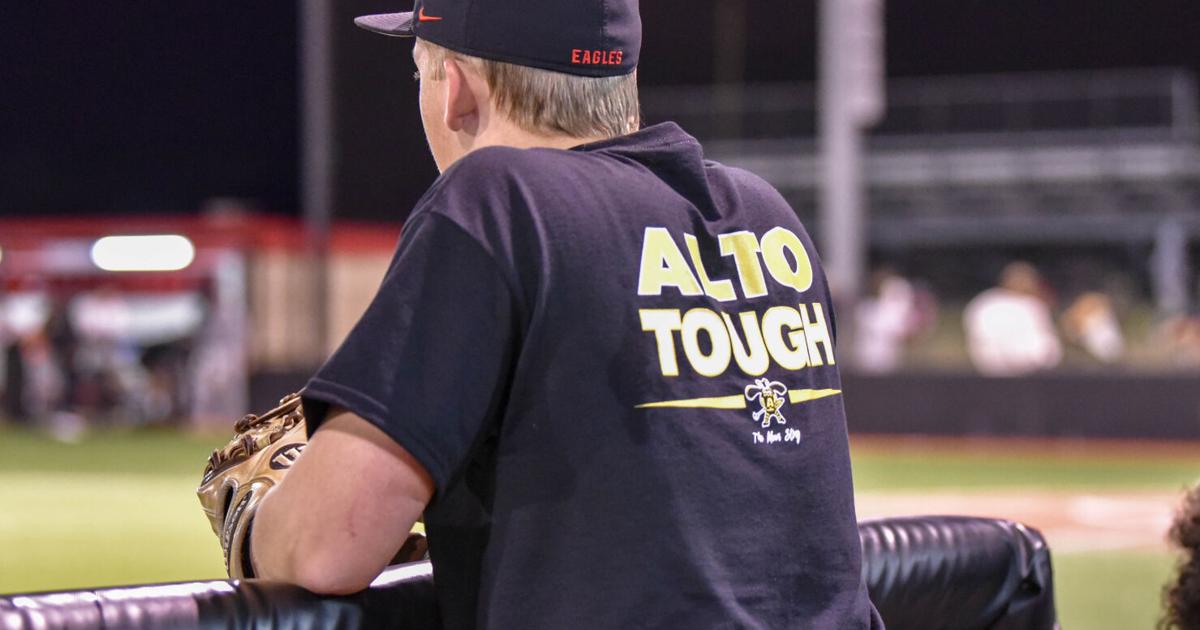 Rusk baseball team pays tribute to Alto basketball player who died in game | Sports
RUSK – For fans in the stands at last night's Rusk baseball game, some may have thought they were at the wrong game. Rusk's red and black jerseys were nowhere to be found. Instead, black and gold filled the dugout.
The Rusk Eagles baseball team used its Friday game to pay tribute to DeVonte Mumphrey, an Alto High School sophomore who collapsed and died during a basketball game on Tuesday.
In a moment of silence for Mumphrey before the game, the Rusk players could be seen with their heads bowed in a black jersey that said 'ALTO TOUGH' in gold lettering on the back.
Head coach Ross McMurry said teachers and family worked hard to get the jerseys, hats and helmet stickers in less than 48 hours.
"We wanted to do something to support our neighbors and they did," McMurry said.
McMurry said he's dealt with a loss like this before and it's never easy, but it's also an opportunity to grow as a human being.
"It's absolutely tragic, really terrible. No words are dramatic enough to explain it," he said. "As growing young men, they need to learn to empathize when it's not a direct relationship with them. Some of them speak directly to them. But it's important to learn to be good people whenever the opportunity arises. It's easy to go the other way. It's just finding a way to help.
McMurry went on to say that the players were thrilled to have the opportunity to support the Alto community and honor Mumphrey.
"We have kind-hearted children. They were happy to help and be there for them. All of their families have done a great job talking about kindness in their hearts," he said. "We believe in coming together when the going gets tough. We all want to do whatever we can to support the community.
Rusk senior Will Dixon, who played baseball at Alto in 2019 and 2020 and knew Mumphrey well, said he couldn't believe it when he heard the news.
"I've known DeVonte since I was in elementary school and always thought of him," Dixon said. "When I heard the news of DeVonte's passing, it was something I couldn't believe. Like everyone who was close to or knew DeVonte, it doesn't seem real, but I know he is in a better place smiling at us.
"DeVonte Mumphrey was a great athlete, a great leader and a better person," Dixon continued. "We've always had a great friendship and he's supported me through tough times and through the time I transferred from Alto to Rusk."
Dixon said it was a great feeling to wear black and gold again and honor Mumphrey that way.
"It was an amazing feeling to be able to wear an Alto shirt for DeVonte and remember his legacy," Dixon said. "DeVonte Mumphrey was a one of a kind person, and he will be truly missed by his friends, family and me."
A service for Mumphrey will be held at Rusk High School on Saturday at 1 p.m.
A bank account has been opened at Bancorp South in Alto which accepts donations in memory of Mumphrey.