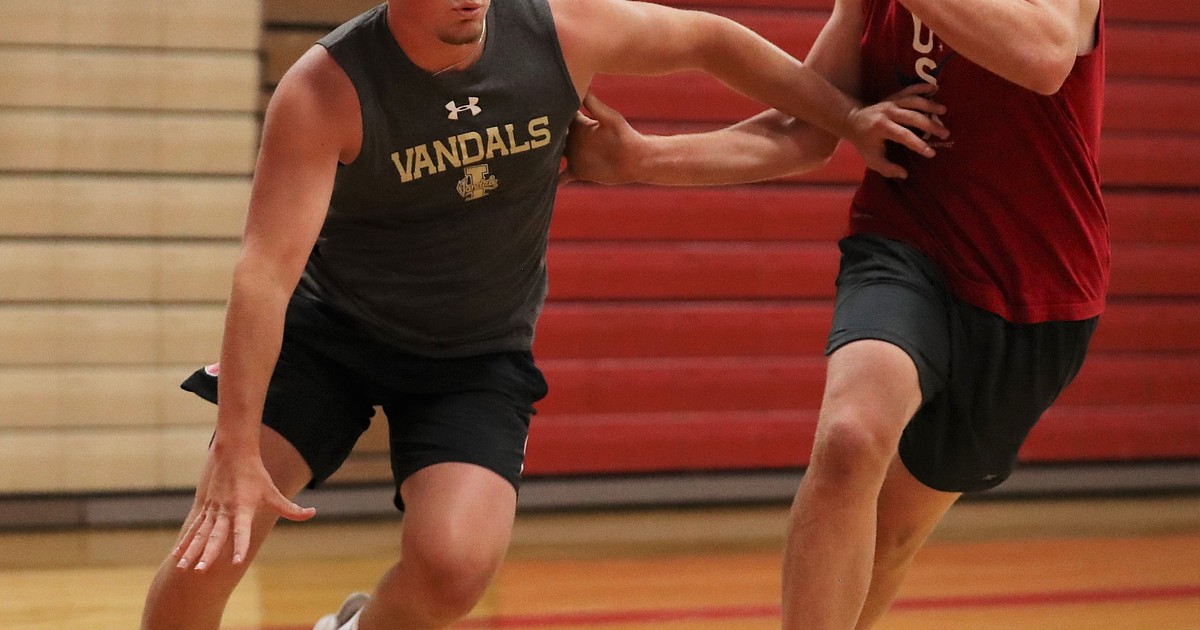 SHS Boys' Basketball Finds Time To Improve, Hosts Youth Camp After July 4
SANDPOINT – In his first few weeks overseeing the Sandpoint boys' basketball program, new head coach Brian Childs does everything he can to get his players to spend time on the court – but it doesn't. was not easy.
Over the past month, time has been difficult to find for Childs. He had to complete his teaching responsibilities at Heritage High School in Vancouver, Washington, and move from there to the family home in Coeur d'Alene, which is being renovated.
With everything going on, getting to know her new gig was a challenge.
"It's been a struggle and it's nobody's fault, it's just the circumstances a little bit," he said.
Fortunately, the storm has calmed down. Childs and his family have recently fully settled in, and once the transition is over, the Muncie, Indiana native is hoping he can get the Bulldogs into the gym even more.
"It will just be important for me to be up there and have the gym open," he said.
Childs got a first glimpse of his new players and the future of the program at the team's three-day summer launch camp in the first week of June. Since then, he's opened the gym for the boys whenever he can, but it's sporadic.
Childs aims to establish a more consistent training routine with his players now that he can be more flexible.
Most basketball teams end their off-season activities in late June or early July, but Childs said the team will continue to work for most of next month to make sure they get the most out of the game. summer.
On Monday, Childs was able to set up a pair of scrimmages at Kellogg with St. Maries, the defending State 2A champions and the Wildcats. It was the first glimpse of another team's Bulldogs in over four months and the perfect opportunity for Childs to assess where his team is doing.
Sandpoint didn't have their full squad, including all-league selection Colin Roos, but Childs was impressed with how well the team performed given the limited time they spent together this summer. He could see the chemistry.
"The kids played hard, they played together and seemed to be excited to play basketball, so we're just going to try to build from that," he said.
The West Valley Summer League and the other camps and tournaments the Bulldogs typically attend during the summer don't or have already taken place, Childs said, so he plans to schedule more scrums in the coming weeks.
"We are going to do what we can to make ourselves play as much as we can," he said.
When Childs was in the gym with the Bulldogs he focused on getting a feel for his players' strengths and areas in which they need to improve. Luckily for Childs, he's been given a jump on this process that most new head coaches don't get.
He attended a handful of Sandpoint games last season while working remotely, so the talent the team possesses is no stranger to him. However, Childs said watching players from the stands and coaching them on the sidelines are two completely different things, so he's always trying to gauge where the Bulldogs are at.
He said he can tell the junior team have been working hard in the gym since the end of the 2020-21 season.
"They have made a lot of progress physically," he said.
Last year Childs noticed that the team didn't take a lot of midrange and 3-point jumpers, and when they did, they were sometimes ineffective. Childs loves to spread the ground and give his team open stares, so he stressed the importance of taking shots during the summer for his players.
"I think we have guys who can shoot it, but the only thing is you have to get the reps in the gym," he said. "There really is no reason we shouldn't be getting a lot of pictures by November."
In the meantime, new students in Grades 3 through 9 can look forward to the four-day camp that the Sandpoint boys' basketball team will host from July 6-9.
The camp will be held at Kootenai Primary School. Students in Grades 3 to 5 take the court daily from 9 a.m. to 11 a.m., followed by students in Grades 6 to 9 from 11 a.m. to 1 p.m.
The camp will feature instruction from high school coaches and players, a focus on skill development, and games with prizes each day.
The cost is $ 25 and includes a Bulldog basketball camp t-shirt. Registration will be done at the gate before the start of the first day of camp. Contact Brian Childs at [email protected] if you have any questions.