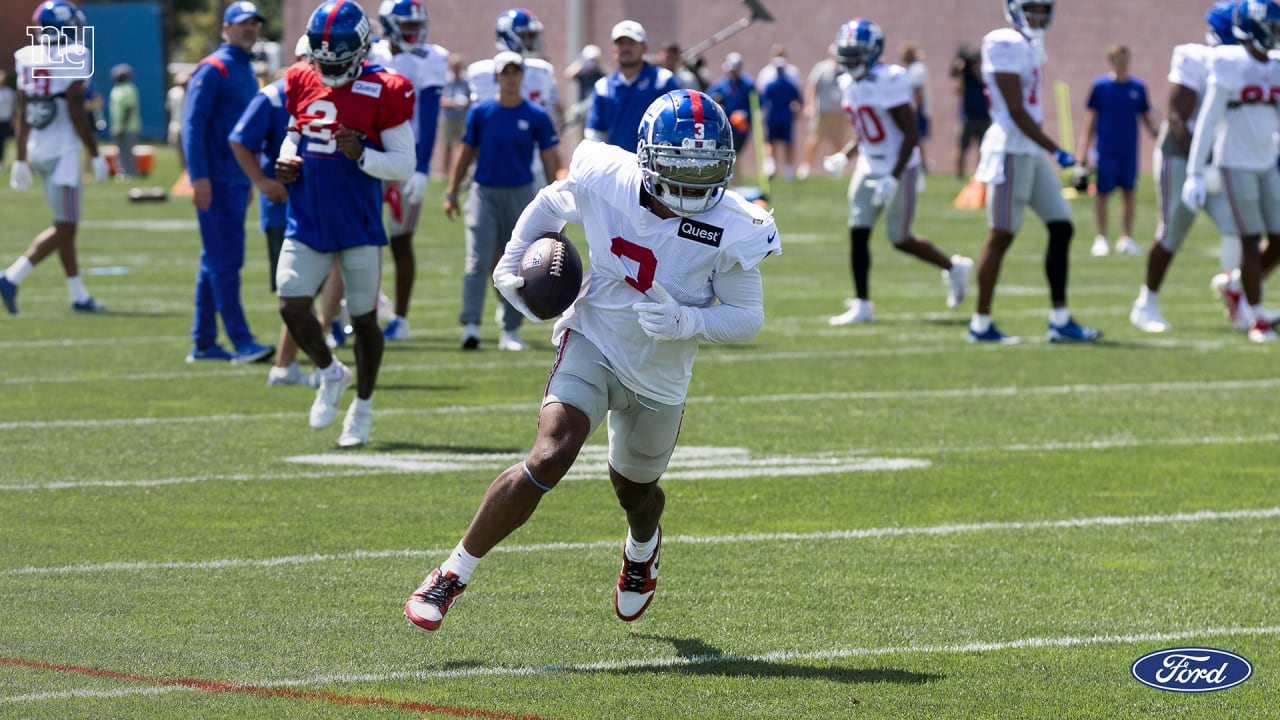 Sterling Shepard skips physical, returns to training
Shepard's return doesn't put the wide receiver group at full strength. Kadarius Toney was in the pads today but did not participate in team drills. Darius Slayton worked from the side. Neither played in Sunday night's 25-22 win over Cincinnati. Collin Johnson, who had an outstanding camp, tore his Achilles tendon in training today and was placed on the injured list.
Shepard will provide an infusion of talent and experience.
"He was a good player," Daboll said. "I think he can do a wide variety of things. Good road runner. Speed. Intelligence. Can read the area. Read the man. Understands the covers. I'm thrilled to get here and work with him."
Shepard, a second-round pick in 2016, is the oldest giant by two years (Saquon Barkley and Nick Gates arrived in 2018). He is one of the most productive receivers in franchise history. His 349 catches rank him eighth all-time, 18 behind Frank Gifford. Shepard is 17th on the Giants career list with 3,884 receiving yards. With 21 touchdown receptions, he is tied with Stephen Baker for 21st in Giants history. Shepard's 10 100-yard games are tied for ninth on the team's all-time list with Plaxico Burress and Lionel Manuel.
Most of this production took place when Shepard lined up in the slot machine. But Daboll thinks Shepard's versatility can be an asset.
"I think he can really play any place we need him to play by watching him on tape," Daboll said. "He's been productive on the inside. He can do things on the outside. He has the ability to create separation, which helps the quarterback. Again, he's a veteran who played at the football, he has a good rapport with (quarterback) Daniel (jones). It will be good to throw him into the mix. I told him he was going to have to learn a lot of spots."
Shepard will gladly do anything asked of him. Injuries limited him to just seven games last season, when he had career-low totals of 36 receptions, 366 yards and a touchdown. Shepard is looking forward to not only having a great year, but also enjoying the game and interacting with his teammates.
"I love this place," Shepard said. "I love everyone in this building. I've been here for seven years now, and it's been a blessing to be here. You hear stories about other places in the league, and there's no places like here And that's where I wanted That's where I want my family to be, and I'm glad it's working.
"My number one goal is to get this team back on track. It's been a while since I won a game, so my number one goal is to get this team back and get this franchise back to where we're supposed to be. … I'm gonna do my best to stay back, stay out there with my guys. I mean, I love the game and I love being with them. It's one of my favorite things in the world. in addition to my kids and my family — to be playing here with these guys. So I'm just going to cherish every single day."
* Daboll said the Giants "could" still sign a kicker this week in response to Graham Gano suffering from a concussion against Cincinnati.
"But if he's ready to go towards the end of the week, obviously we probably won't," Daboll said.
*Several players who did not dress for the Bengals game returned to practice with varying degrees of participation. They included running backs Matt Breida and Gary Brightwell; offensive linemen Jon Feliciano, Joshua Ezeudu, Jamil Douglas and Ben Bredeson; defensive lineman Leonard Williams; and defensive back Cor'Dale Flott.
*The Giants will host the Jets for a joint practice tomorrow.
* The Giants have terminated the contract of wide receiver Robert Foster (hamstring) with an injury settlement. Foster was placed on the disabled list last Friday. He was signed by the Giants on March 14. Foster caught 32 assists in 30 games for Buffalo and Washington from 2018-20.